We will perfrom from machining to assembly of precision machineries.
For more than 50 years, Murakami Seiki has been seeking for the "ultra-precision" machining. As an expert of precision machining and assembling, we have been a good partner to many other companies. Lately we are often asked to machine precision goods and to also perform assembling which requires high-precision quality as well.
To be the best partner as we could, we always try and put our efforts to meet the customers' demands.
It will be our pleasure to contribute our technical expertise in solving diverse range of problems.
Assemblies of Ultra-precision Instrument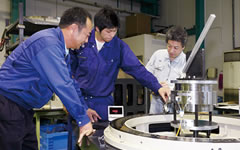 Proposal for Cost-down
Lately we are getting more and more requests for a consistent work which covers from high-precision machining to assemblies. With our profound knowledge and understanding of precision machining for each different parts, we can provide the proposal devised for cost down.

Complete Quality Control
We have established a complete quality control system to satisfy customers and to build trust between us and costumers.
To be the best partner for all the customers, we make sure to provide our technique at its best and to establish the fine quality assurance system.
A List of Ultra-precision Machining techniques
Our technical expertise of machining make it possible to carry out the ultra-precision assemblies. We can observe the precision of a whole machine by understanding the whole picture of assembling plan-diagram. Some of our machining techniques are listed below.
Scraping "Kisage process" and Lapping

The technical skills of our craftsmen make it possible to perform the superfine surface roughness which machineries cannot provide. These techniques apply to polishing process for inspection equipments etc.
Scraping "Kisage process" and Lapping

Cutting

We process the ultra-precision cutting such as lathe, milling and 3D machining etc.
Cutting
EDM (Electric Discharge Machining)

We process ultra-precision wire EDM, pinhole and form carving EDM
EDM

Grinding

We process plane-surface grinding and, ultra-precise cylindrical and circular grinding as well.
Grinding
Murakami Seiki's Ultra-precision Machining
Murakami Seiki was established in 1948 as a specialist group of ultra-precision machining and assembling. Ever since our foundation, we have engaged in ultra-precision parts manufacturing and put efforts to improve the precision of machine tools and measurement instruments.
With 50 years of our technical expertise, we have been gaining liabilities as an expert of ultra-precision machining. Feel free to contact us especially about ultra-precision machining and assembling.

Company Profile