Murakami Seiki HOME > Quality Assurance System
Complete Quality Assurance System
As a ultra-precision manufacturer and processor, it is essential for us to install high-precision inspection equipments and to establish a complete testing system in our factories.
We make sure to provide the high quality to satisfy customers and to build their trusts on us.
We provide our technique at its best and have a well-established quality assurance system to guarantee the quality of our each workpieces. We will continue improving our policy for the quality assurance system.
ISO9001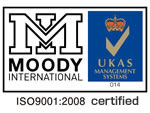 We acquired ISO 9001 (International Organization for Standardization) in September 2010.

In-process Inspection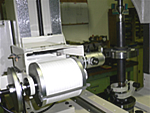 We make sure to confirm the plan for each processes to avoid any omissions. Using inspection measuring tools, such as hall lights and endoscopes, it is easier to find chip-cloggings and machined flaws.
In addition, we prevent omissions by conducting spot-check at each processes by using different gauges.

Plan Understanding and Sharing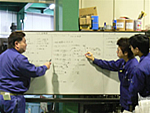 When we receive a plan, we plot it and confirm every measurements before processing.
To improve the technical skills and expertise of our men, we conduct study sessions to establish the system to develop techniques of individual technicians.

Processing Errors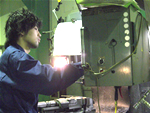 If any errors occur during processing, we halt the project to discuss the source of the problem as a team.
We work as a team to make a corrective action report to prevent similar errors from occurring in the future and to improve the quality of our work.

Shipping Inspection by CMM -Coordinate Measuring Machine-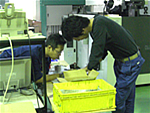 We conduct quality inspections of every products we process with high-speed scan data analysed as a three-dimensional data.
During a quality inspections, we make sure to enter numbers in a plan and keep serial numbers of the products in order to enable to confirm their laboratory datas. We enter the exact number when inspecting, and if something is off-sized, we will work as a team to find the source of the problem, communize, and solve the problem.


We always make sure that we have a complete quality assurance system to provide our customers with the highest quality.
If you are hoping to improve the precision of your products or machining, we would be happy to contribute our technical skills and expertise to help you grant your requests.