Murakami Seiki HOME > Grinding
From Trial Manufacture to a Mass Production
Enhance the accuracy of your precision parts? Need custom orders to develop new products? With the technical expertise obtained by processing various machining, Murakami Seiki perform the ultra-precision grinding process.
First, please contact with us! Especially if you are interested in flatness of workpieces and, cylindrical and circular grinding.
We can provide a trial manufacture, small quantity from one lot, or a mass production.
In addition, we are able to assemble machineries which are designed to assemble high precision manufacturing parts. Being able to perform all the processes, we believe that, makes it possible to reduce costs and shorten the delivery date. We may be able to improve the quality of our workpieces as well.
Examples of ultra-precision grinding
Example 1: Squareness, Flatness and Parallelism of 3μm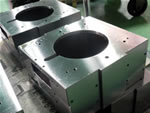 Uses

: Parts of semiconductor producing equipment


Size

: 350 angles


Materials

: FCD(ductile cast iron)


Precision

: Squareness, Flatness and parallelism of 3μm


Machining

: Plane-surface polishing


Characteristic of the process

: FCD excels gray cast iron in strength and has a fine toughness. Therefore, FCD is used as a material for bicycle parts which require strength. We perform processing and remain mechanical properties. We also provide the precision of 3μm.


Example 2: Polishing at roundness and cylindricity of 2μm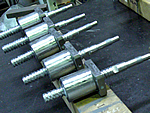 Uses

: Part (spindle) of the machine tool


Size

: 150 cylindrical size &ip;, 700mm in length


Materials

: SCM-415 (Chrome-molybdenum steel)


Precision

: Roundness and cylindricity of 2μm


Machining

: Lathe machining, Milling, Quenching, Cylindrical (OD) polishing, Inside diameter polishing


Characteristic of the process

: Spindle is a part to be an axis of rotation. Therefore, high-precision is essential for a stable amplitude. The spindle on the right has been finished with its amplitude of 2μm.

Example 3: Grinding and polishing hard and viscous materials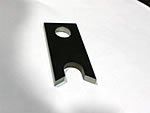 Uses : The blade which cuts a work machine, steel wire
Materials : SKD-11 (Metal mold steel for cold working dies)
Machining : Grinding , Polishing
Characteristic of the process : Metal mold steels are hard and viscous. Therefore high-precision grinding and polishing are required.

Other Machining Examples
In order to guarantee the precision of our ultra-precision machining and each of our workpieces, we established a complete testing system and conduct tests with inspection instruments in each processes.

Quality Assurance System
Processable materials and precision

Processable Materials
Iron, Stainless, Aluminum alloy, Nickel alloy, Pure titanium, Molybdenum, Tungsten, Sintered metal, Kovar, Dice steel, Heat-resisting steel, Carbide, Ceramics, etc.

Precision
We can perform the precision of 1 - 3 μm. With our strict quality testing system, not only the precision but we also guarantee the quality of our workpieces.

Acceptable Quantity
We can provide a trial manufacture, small quantity from one lot, or a mass production.

High-precision Assembly
Not only the machining, we can also process assemblies.
We have developed our own automatic machine for efficiency improvement and to enhance the precision of assembling processes.
High-precision assembly
We can also process other kinds of materials which are not on the list above.
If you are interested in our machining, and are able to send us a plan, we can provide the proposal for the optimum materials for it. Feel free to contact us. We would always be happy to have any kind of inquiries.

Characteristics of Our Machining

The high-precision polishing
and grinding processed with
measuring equipments.

With our high-level techniques, we can process mirror-finish-grinding on stainless and titanium, and high-precision polishing of a master gauge etc.

After-machining ;
Heat treatment / Surface treatment

We provide various types of techniques from processing to an after-processing surface treatment with our technical skills and expertise.

Integrated system
from planning to assembling

We have well-established an integrated system which covers planning, testing, precision machining and assembling for ultra-precision machine parts.



These are only small parts of our work. If you are interested in our ultra-precision cutting and hope to get more information, go to page for inquires and feel free to contact us! We will do our best to meet your demands with technical skills and expertise of precision parts machining including each measuring instruments.