It is a technical skill to finish the metal surfaces ultra-precisely by scraping off the roughness which is unnoticeable with eyes.
It enables the flatness which machineries cannot provide, and the high-precision processing is possible as well.

Hoping to enhance processing accuracy of your machineries and equipments?
Concerning the deterioration of processing accuracy as installing large-sized equipments?
On the sliding surface, on where heavy metallic goods, such as table, column or head, reciprocate, a friction heat easily causes a surface deformation. Therefore, a wamp or roughness on the surface may be unavoidable as using the products.
The cause for the unevenness on the surface can be also brought about with such temperature changes or processing pressure etc.This a little unevenness can lower the machining accuracy and machine may not be able to provide required precision.
However, Kisage technique for scraping enables the precision which even the newest CNC machine tools cannot provide.
In order to perform the flatness of 2μm or less, craftsmen adjust the precision with their experienced techniques.
When assembling the precisely-processed machine parts, margins of errors are unavoidable even if we process each individual parts precisely. The finished products may even have a big errors after assembling.
It is impossible to polish assembled parts with machineries, however, with Kisage technique for scraping, it is possible to reduce final errors even after assembling.
Kisage, scraping is an essential process in order to produce the high-precision products.

With our experiences of a long history, it is possible to provide the flatness, squareness and straightness which machine tools cannot. The technical skills of our craftsmen enable to finish the surfaces with the plane degree at the closest to 0.
Using a tool called scraper, our experienced craftsmen scrape off any unevenness on the metal surfaces.
As it is already mentioned, this process is performed only by man-hands. Therefore such huge machine equipments are not required.
However, because this process cannot be mechanized, we need experienced craftsmen with true technical skills and expertise. Murakami Seiki has a strong confident in our technician's skills and we believe that with their skills we can perform the ultra-precision machining which others cannot.



This process scrapes the inner side of flat, cylinder, and round shaped metal and provides the surface roughness of 1-3μm.
We provide a lapping compound as abrasive on the surface and perform polishing by applying pressure on the surface of workpieces.

It requires an experienced technique to level the metal surface while keeping it circle when processing non-planar surface, such as a pipe inside diameter etc. Our craftsmen pays very careful attention to perform processing to a microscopic unevenness which only experienced experts can find. We put our efforts to provide the ultra-precision lapping which machineries cannot.
Murakami Seiki performs lapping on a plane surface or an outside / inside diameter in μm. We have been able to provide our customers with the highest-level techniques.
We can process lapping on various types of cylindrical metals such as chrome molybdenum and FCD etc.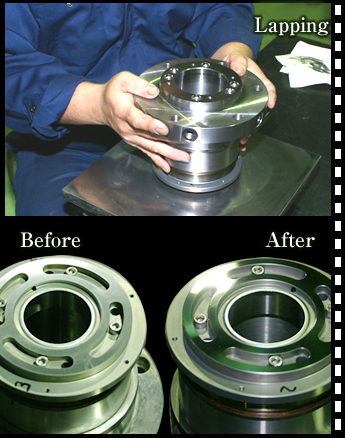 "To make hand-crafted products better than machine-processed products"
This is the goal I want to achieve, and it is also the reason why I am proud of our Kisage technique for scraping. It has been 14 years since I started learning this technique. The only way to master this technique was to persevere and keep practicing everyday. Of course, even now, I am still seeking to be better.
We are never satisfied with the current level of our techniques, and strive to make products beyond that of our customersf expectations. We put our efforts everyday to enable cost reduction, to provide our customers with the best possible products. In addition, we value educating the younger members because we believe this would be a good way for Murakami Seiki co., Ltd to improve in the future. We must improve our skills and prevent the techniques and expertise from losing. I believe that this is the goal for all Kisage professionals today.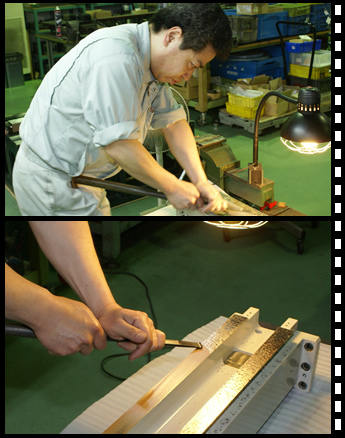 The Kisage technique is fundamental to perform an absolute accuracy. Under the belief of "what we are doing right now is already in the past", we at Murakami Seiki put our efforts to develop new techniques in order to stand out in processing and manufacturing business. Technology is improving day by day, however, "Kisage" for scraping process is an irreplaceable technique which we must prevent from losing.This is why we have been spending time and cost to preserve our techniques for the last 50 years.
It is difficult to master and has not attracted a great deal of attentions, however, in the past few years, the numbers of the orders has increased. Some customers even say "this is something that only Murakami Seiki can perform" when they make a deal with us.
Our first priority is not a money, but to improve and inherit our technical skills and expertise. Murakami Seiki is finally becoming recognised for its ultra-precision processing technique. We are constantly developing new techniques, and through preserving our traditional techniques as well, it is our wish to be known as a professional of ultra-precision processing. No others, only Murakami Seiki.